Our Current 45's Catalog
is Available by Mail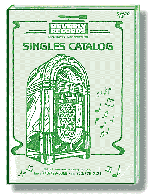 Our current Singles Catalog lists
thousands of 45s...but they're just a fraction of the
45rpm records available at Beverly Records. The Catalog consists mainly
of "Top-30" hits from the Big Band Era to Now. At any time,
90% of the titles will be in stock and available.

Save the time & fuss of printing out any of our lengthy
on-line listing pages. Come into the store to pick up catalog, just $5.

--Or for $5, plus $3 standard, $6 Priority (recommended) shipping, you can get this
invaluable soft-bound catalog by mail. Enter the quantity you would like and click "Add to Cart"
Beverly Records, 11612 S. Western Avenue; Chicago, IL 60643