Let's Go, Go Go White Sox
Is In The Hall of Fame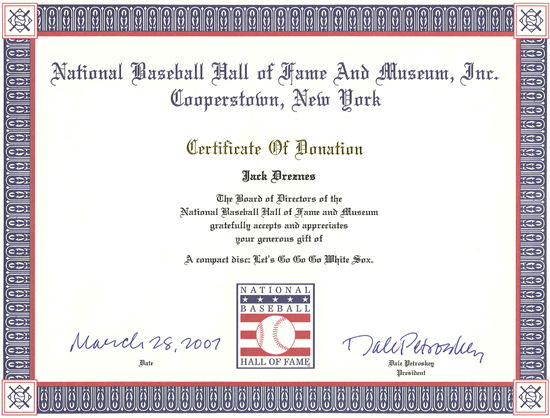 SOUTH SIDE - White Sox fans will now be able to relive the sounds of the 2005 World Series when they visit the National Baseball Hall of Fame in Cooperstown N.Y. Beverly Records store manager, Jack Dreznes, has donated an official 1st print compact disc of Let's Go, Go Go White Sox to the Hall of Fame. The CD will appear in the same building as Nallie Fox's glove, Babe Ruth's bat, and Barry Bond's record setting home run baseball. "It was such an integral part of the fan experience during the 2005 season, I didn't think a display for the 2005 World Series would be complete with out it" explains Jack.
Captain Stubby's song, titled Let's Go, Go Go White sox was recorded for the 1959 White Sox team by Chicago legend Captain Stubby and produced by Polka King, Lil Wally Jagiello. However it never really caught on outside of a 4 block radius of the Baby Doll Polka Club. That is until June 18, 2005 during 1959 turn back the clock day at U.S. Cellular Field. The scoreboard operator for the Chicago White Sox complied a little montage featuring the '59 Go Go Sox to the beat of Captain Stubby's song. The crowd, many of whom never heard the song before loved it. When it was featured before a 9th inning rally it became instantly famous. Let's Go, Go Go White Sox then became the official rally cry of the 2005 White Sox. The CD was officially reissued in October 2005 and sold over 2000 copies in the weeks leading up to the World Series.
---

Let's Go Go Go White Sox 2005 Pressing- Captain Stubby and the Buccaneers (Aug 1959)
CD Single -$9.98 Buy


Beverly Records, 11612 S. Western Avenue, Chicago 1.773.779.0066