We're Well Stocked. Well Organized
Sorry, but there's no spending just "5 minutes" at Beverly Records.
Come on in. You'll find stacks and racks, boxes and back-rooms,
jam-crammed with stuff to challenge your vinyl curiosities.
--Not to mention record-related items everywhere: posters, displays,
photographs, autographs, sheet music, a vintage record-player, a
jukebox...a very large, old radio, an arcade-style video game, and....
It's what happens after 34 successful years in the business.
Jack, Randy, Johnnie & Joe, Cathie & Derek
If John's not at the phone when you call, one of 2 capable Dreznes sons, Jack and Randy, with the business since the 70s and 80s, will handle your record order. Or maybe you'll meet grandson Johnnie...or Joe, Cathie or Derek, long-time employees. We're all part of a team "with complete musical knowledge." People working at our store range in age from 25 to 84 years...a spread of record insight from Artie Shaw thru Frank Sinatra to Madonna. Help!
Dan and Mike

Dan and Mike are record enthusiasts all the way. Dan received his Rock and Roll degree as a teenager on the Southwest Side. You may have seen him at hanging out at Rainbow Beach in the early sixties with his stack of 45s and his portable record player. Dan will answer any question you have regarding the Chicago Music Scene of the sixties.

When Mike is not attending Movie Premiers and Oscar Events you will probably find him busy helping people at Beverly Records. Mike is well versed in music knowledge. He is the guy to ask when you have a question regarding country music. If its country, Mike knows it!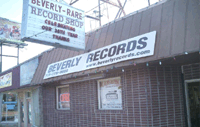 Today's Beverly Records
Ready to help with your request for rare records
at 11612 South Western in Chicago, we look forward to serving
you in a friendly, professional way....