Read and watch the @Suntimes inspirational take on the day the music died in Iowa.
Check out this list of upcoming concerts and events in the chicagoland area
History buffs, looking for a good read? Check out this unpublished manuscript
"A History of Beverly Hills, Chicago" by Mrs. Walter F. Heinneman (dated 1926!)
Thank you Mike for your 5 star review! 05/29/12
7" arrived safely this morning - extremely well packaged but then I guess if you've been doing this for 45 years (have just watched your video on Google) you're getting the hang of it !!!

You can certainly add me to your list of "ecstatic" customers - brilliant record, fantastic service and all at a reasonable price - here's to the next 45. Back through the sixties I spent far too many hours browsing my local record store in South London (long since gone) and spending what little spare cash I had then. Now I'm retired I'm glad I don't live near your store - my pension would disappear far too quick - but it did bring back some great memories and Jim Stafford always did make me laugh.

Many, many thanks and best wishes

Mike
Thank you chicagoist.com for the mention! We can think of 33, 45 AND 78 reasons to come to Beverly!
Thank you Evergreen Park Patch for your awesome Record Store Day 2011 article!
Looking for something fun to do this summer? See The Meteors in Concert at a local venue! Check out The Meteors website to find out where they are playing next.
Have you ever wondered, "Whatever happened to that lost art, the American 45 record sleeve?" Well wonder no more. Check out this new book by Jeff Marcus for everything you ever wanted to know about record sleeves. Makes A GREAT GIFT for that record collector who has everything.

Read Our good friend and record promoter, Carl "the Screamin Wildman" Bonafide's interview in the suntimes. Thanks Carl for stopping by and using the store as a backdrop for your story!
Who Still Listens to Records? CNN knows!
The Science of Vinyl What does a record look like under a microscope?
Not only do Mp3s sound awful, they are also bad for you Mp3's tend to give the listener a headache after a few hours because the human brain does not comprehend bits and bites as well as the sound wave from an LP.
Learn About Collecting Vinyl. Do you want tobout vinyl records and the superior sound of records? Check out this website.

Who were those Green Guys!. Born On Turn Back The Clock Day in 1990. The Legend of Da Greens Brothers Continues to grow. Learn more and join them at some of their scheduled events.
History of The Recording. Now, when the kids ask, "Where did 45's come from?" you can answer them. From the cylinder to the I-Pod, check this link and find out all there is to know about how music has been recorded over the past century.
If you're like us, nothing interests you more than the microscopy of vinyl recordings, or the die cut used to manufacture the first pressing of L.A. Woman. Check out one of our favorite websites, The Record Collectors Guild. Also waste some of the bosses time in the record collectors forum, (and hey!, if you get fired that just means more time to search for an orignal Black Album!)
We bet you've always wanted to print jukebox labels from the convenience of your home, but didn't want to have to pay for it. Well our research team has worked tirelessly searching the internet night and day to find just the website. UPDATE: and this website too, Thanks Dennis! Have fun!

Grading Records. Know the condition of your own rare records and of what you want to buy or sell.

Free Music Who says there's no such thing as a free download? Rhino Recordings (Great label by the way) is offering all of us some free music.

Cleaning Rare Vinyl Records. How to properly clean your vinyl.

Write A Review Let your fellow "vinyl-heads" know what you think of Beverly Records.
Wow! We never had a clue this was coming, Our favorite little White Sox Song has been featured in the Sun-Times (twice!), the Daily Southtown, ABC 7 Chicago, News Talk 560, on Steve & Johnie's Show, Pete McMurray's Show, put in regular rotation on Oldies AM 1690, in a White Sox article, and on ESPN's Cold Pizza!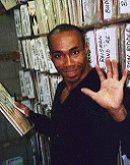 In Loving Memory
Derek Crouther
October 4, 1960 - July 21, 2006
Thank You Derek, We will miss you!
RIP